Hotel Champlain America's First Golf Resort
June 17, 1890 - America's 1st golf resort opens, the Hotel Champlain, in Bluff Point, New York.




In the late 1800's America saw the beginnings of its great tourism, for the first time many American families jumped on train heading for vacation with nothing but leisure time on their hands. Massive vacation resorts began popping up on coast lines, in mountain ranges and by lake shores.

These fabulous resorts had many things in common as the formula success seemed to be a beautiful spot, affordable transportation ( railroad fare from Albany was $4.95), luxury accommodations, elegant dining rooms and countless out door activities from fishing to croquet, badminton to sailing and tennis to dancing.

Late 1800's was also America's gilded age and its wealthy spent lavishly on many things but especially their "cottages". From the castles of the Hudson River Valley and the "Camps" of the Adirondacks to the Marble Mansions that lined Newport Rhode Island's Ocean Drive and Bellevue Avenue the expression "excess is best" took on entirely an new meaning.
It is with the thought of one of these magnificent summer homes that lead Smith M. Weed, a wealthy Plattsburgh NY businessman, to purchase Bluff Point, a stunningly beautiful peninsula with sweeping vistas of expansive Lake Champlain.

Shortly after purchase Mr. Weed began his project building his access roads and an observation tower. As work progressed and Weed found his way to the top of his new observation tower, the idea that something grander than his "cottage" belonged on the sight.

Mr. Weed at once began the process of convincing the Delaware and Hudson Canal Company that building a railroad from New York City to Plattsburgh in the northern most reaches of New York state would be a very worthwhile.

The D&H Company upon study of the area upped their ante and also bought the Champlain Transportation Company, a steamboat company operating in all the major ports on Lake Champlain, giving D & H primary control of the northern country's transportation.

Now with D & H participation assured Weed began promoting the idea of building a grand resort hotel on Bluff Point calling it "The Hotel of Hotels". It would include a barroom, café, wine rooms, billiard rooms, and formal dining rooms. A vacation haven, that would feature stables, walkways, bridle paths, tennis courts, "an impressive 18 hole golf course" and beach house for its fleet of 50+ boats for taking in the magnificence of northern Lake Champlain.
D & H would certainly place a "private" railroad station on the grounds as well as construct a large pier to accommodate its newly acquire steamship fleet as well as other water vehicles that may need a viable commercial landing.



Hotel Champlain's Private Railroad Station
built by Delaware and Hudson Canal Company






Hotel Champlain's Steamship Landing
built by Delaware and Hudson Canal Company


Convinced that the venture would be beneficial to all in the area, the citizens of Plattsburgh entered into an investment agreement with Weed and D & H forming on September 12, 1888, the Bluff Point Land Improvement Company. Weed then sold 1000+ acres of the Bluff Point peninsula for $25,000 to D & H and construction began instantly stopping only in the nasty winter of 1889.
To much fanfare Hotel Champlain, America's 1st golf resort opened its doors, golf course and all to the public on June 17, 1890. Immediately it became known as a summer paradise for many socialites and prominent people. Word of its breathtaking beauty, grand elegance, ease of transportation and on property golf course spread quickly.


Hotel Champlain 1890




Hotel Champlain Dining Room 1890



Hotel Champlain Golf Course circa 1890
Perhaps a Ladies golf tournament, note the man
at the end of the bench, do you think
he is praying or sleeping ?



Hotel Champlain Golf Course circa 1890
Perhaps a Ladies golf tournament, note the lady
leaving the green do you think she made the putt
or blew the match ?



President McKinley and the officers of 26th
U.S.V. Infantry circa 1895
President McKinley who summered
at the Hotel Champlain with his family


View of the Hotel Champlain,
beach and boat house from D & H steamship landing.



Although it is not known who designed the 5825 yard golf course, it is known that the grounds layout was under the supervision of a Mr. Miller. Miller was the superintendent of grounds at Fairmount Park, Philadelphia where a golf course was approved and constructed in 1900. So it is not unlikely that Miller may have been the golf course's first designer. Described as a beautiful park like course with rocky ledges and many parallel holes in close proximity to each other the golf course was quickly became an overwhelming success.

In 1909 the hotel hosted 500 dignitaries for the Tercentany Celebration (300th anniversary) of the discovery of Lake Champlain and a banquet presided over by America's first golfing president, President Taft.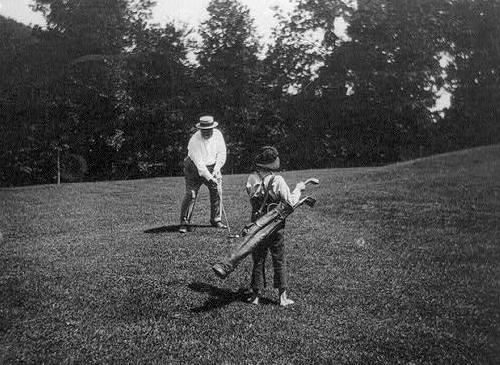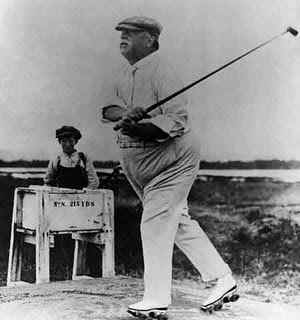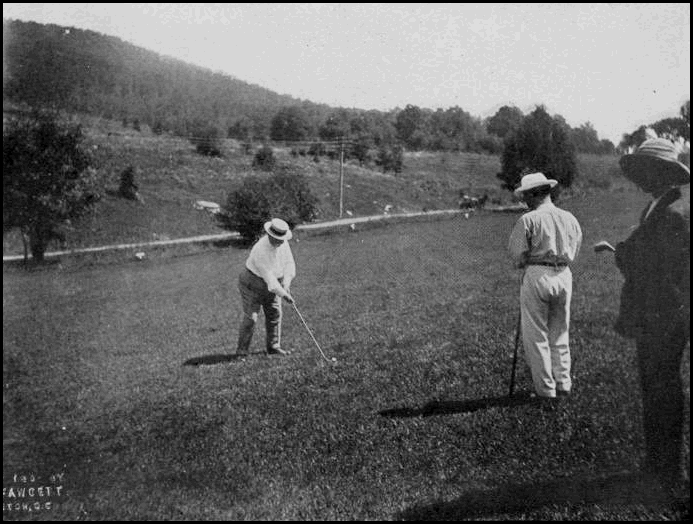 President Taft making the rounds.
Tragedy struck in May 1910 a fire had somehow started in the basement quickly burning the Hotel to the ground. "Construction began immediately on the new hotel, using the same plans as Fort William Henry, except that it was built with steel and concrete this time." According to the Clinton County Historical Society the hotel was advertised as "fire proof". It was furnished in the style of Louis XVI at an estimated cost of $300,000. The second hotel was smaller than the first and had no annex. It included a large foyer, a grotto, a barber shop, separate dining rooms for officers, servants and guests, offices, a grill, a cocktail lounge, ballroom, parlor, library, kitchen, private rooms and apartments with private baths and a veranda.



The new ladies parlor
Hotel Champlain circa 1911





The new library
Hotel Champlain circa 1911





The new dining room
Hotel Champlain circa 1911

From the time of the original opening to 1910, golf once the exclusive sport of royalty, was experiencing "universal growth" and as a result every resort of significance was "getting into the game" building golf courses on or near their grounds. Doing what highly successful businesses do so often, they took advantage of their tough situation and redesigned and renovated the golf course at the same time. Knowing that the better the golf course the better the odds they could hang on to their competitive advantage in attracting the growing golfing population.
This led to the hiring of George Merritt, a golf professional and course designer of reputation whose previous successes included the golf courses a Bretton Woods, New Hampshire and Osmond, Florida.

Merritt's redesign eliminated the parallel fairways, increased the length to the championship distance of 6071 yards and installed a watering system.

Lacking any false humility Merritt declared his redesign "nearly perfect" with every hole now presenting "its own golf problem".

Each tee provided a view of the lake, the greens undulated and rolled and each bunker contoured to the landscape resulting in it being referred to by many as "the most scenic golf course in America".

Management felt "assured that they now have a course that will vie successfully with the better links in this country."
In a mad race for golf course supremacy the "nearly perfect" course was redesigned again. This time by renowned golf course architect A. W. Tillinghast in 1916. Tillinghast was, and is still regarded as, one of the foremost golf-course architects ever.
The golf course, now known as the Bluff Point Golf Resort remains open today and is the third oldest operating in the United States as of 2015.
Above is a cross section of the magazine advertisements for the Hotel Champlain,
it is interesting to note that all but one feature golf.


To learn more about America's Historical Golf Resorts, continue your search here.....