The US Open Golf Championship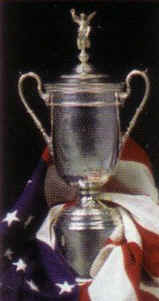 The first US Open golf tournament was played in 1895 at Newport Golf and Country Club, Newport Rhode Island and was won by Horace Rawlins by shooting 36 hole total of 173. A native of the Isle of Wright this hallowed place in golfing lore is Horace's singular claim to golfing fame. Perhaps the most important winning, (from the perspective of the golfing here in the United States) was the 1913 victory by 21 year old amateur Francis Ouimet. Although this was Francis's only US Open Championship, a life long amateur Francis notched 2 US Amateur Championships 1914, 1931. His 1913 victory jumped started the almost century long American love affair with golf, and being a caddie rather than a "gentleman amateur" Francis almost single handedly demolished the class barriers that had existed in American golf up to that point.
1933 Johnny Goodman "The King of Swing" was the last amateur to win the US Open.